AKC Breeder
Rewards Program
powered by AKC Pet Insurance
AKC Pet Insurance is offering breeders up to $10 in rewards per puppy. Breeders earn rewards when their puppy buyers register their dog with the AKC, contact us about pet insurance, and download the new TailTrax® mobile app! See program terms and conditions for more information.
About the Program
Once a breeder has enrolled in the AKC Breeder Rewards Program, you can begin earning rewards for registrations, referrals and downloads that occur in the current quarter and future quarters. Once signed up, there is no need to sign up again! Use the form below to start earning today!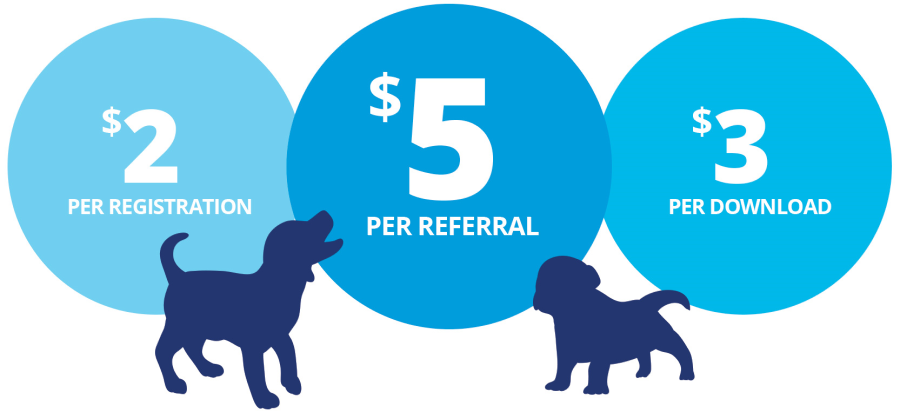 Earn $2.00 for each puppy buyer that completes AKC registration. Remember, this is for puppies registered to new owners.

Earn $5.00 when a new owner contacts us about pet insurance, including for the initial 30 days of pet insurance coverage.

Earn $3.00 for each initial download of the TailTrax mobile app.
Total earning potential of $10.00 per puppy!
How to Participate
Breeders will need to enroll to participate in the program. Once enrolled, AKC Pet Insurance will track actions taken by a breeder's puppy buyers throughout the quarter. At the end of each quarter, a digital Amazon gift card with the accrued incentives will be emailed to the address provided at enrollment. Program not available in all states, including Washington.
Reward Program Enrollment
Sign up below to enroll in the AKC Breeder Rewards Program and begin earning rewards for your responsible puppy owners! We have a strict PRIVACY POLICY and promise not to share your information.
Reward Program Enrollment
Enrollment complete!
Welcome to the AKC Breeder Rewards Program.
Check your email for confirmation. (Also check your spam or junk folders)
Send puppy buyers home with a reminder to register with the AKC, activate their 30 days of pet insurance, and download the app to help start off life with their new puppy on the right foot and to earn you rewards! Download the Puppy Owner Flyer
Questions About the Program?
Read through our helpful FAQ below or contact our breeder support specialist at
breeders@akcpetinsurance.com.
Benefits for Breeders and Puppy Buyers
We know membership in the AKC has many benefits for puppy owners. We think new puppy owners should explore pet insurance as a way to help manage costs asssociated with new dogs. We'd like to tell you about features within the new pet owner mobile app, TailTrax.

You Pet's World in Your Pocket
With TailTrax, pet owners have a new way to manage their pet's health and community.
Store and manage important information about their dog like medical records, vaccination history, microchip details, registration paperwork and more.
Easily access their pet insurance portal where they can view policy information, submit claims, view claim status and easily access the 24/7 Vet Helpline service.
Find local pet resources like vet clinics, dog parks and dog-friendly restaurants and hotels.
Privately and securely connect with friends and family who are fellow TailTrax users.
Breeders can stay connected with puppy buyers or even enable puppy buyers to connect through Paw Posts.
Receive exclusive VIP discounts of pet products and services including treats, food, training and more!
See what the app is all about for yourself and download it now!
FAQ
Is the Breeder Rewards Program available in all states?

No, at this time, the Program is not available in the state of Washington.

Why is AKC Pet Insurance offering this program?

We know that responsible breeders invest a lot of time, love and money into producing healthy, well-adjusted puppies. We want to invest in those same breeders to help ensure puppy buyers take the right first steps in new puppy ownership.

Can I get incentives for registering a puppy from my own litter?

No. Anyone listed as an owner of the litter is not eligible for incentives for registering a dog from their own litter.

What if my puppies are sold through a reseller or third party?

Breeders can not earn rewards on puppies sold through a reseller, third-party or broker.

I'm sending the puppies home, but I am not the first listed owner of the litter. Who will get incentives?

Incentives will go to the first listed owner on the litter registration.

What is TailTrax?

TailTrax is an app designed to make pet ownership easier for your puppy buyers. Learn more here.

What if my puppy buyer already has the TailTrax app?

If your puppy buyer already has the app, then that customer would not count as eligible for an incentive.

Do I have to sign up to start earning rewards?

You can start accruing rewards for any puppies registered after November 10, 2020, however you must sign up for the program before the end of the quarter to receive your Amazon gift card.

Who should I contact with questions?

For questions, please contact our Breeder Support Team at 800-956-2491 or breeders@akcpetinsurance.com.
*Program terms subject to change. Not available in Washington.
Please note: This program is offered through PetPartners, Inc. and is not sponsored or endorsed by the American Kennel Club (AKC). Please direct all inquiries pertaining to the program to AKC Pet Insurance at 866-725-2747.