When the veterinarian comes to see you and your pup in the exam room, her primary goal is to maintain the health and happiness of your pet. Vets are well-schooled, compassionate people, with the skills to identify injury and disease in animals. You, however, are your pet's greatest advocate, and in a sense, a canine-human translator. Your input and personal experience with your pet is invaluable and communicating effectively with the vet will go a long way towards keeping your pup in tip top Super-Dog condition. When you visit the clinic, be prepared to provide some basic, yet important information to your veterinary staff. They will thank you!
Keeping Up With Pup
Keeping a Pup Journal is a fantastic way to stay on top of your pet's health and will keep you prepared for vet visits - both planned and emergency. Start by creating an intro page to get started and a new page for any significant changes in your pet's life. Bring the completed pages to your vet visits and share them with the vet and technician. This information will help you and your vet maintain a program for general health maintenance, disease prevention, and even emergency medical treatment, if necessary. This can also come in handy when leaving your pup with a pet sitter!
From the Pooch Perspective
To make it more entertaining, imagine your pet wrote the journal entries with the goal of keeping his human friends informed about what's going on in his life! A sample entry might look like this: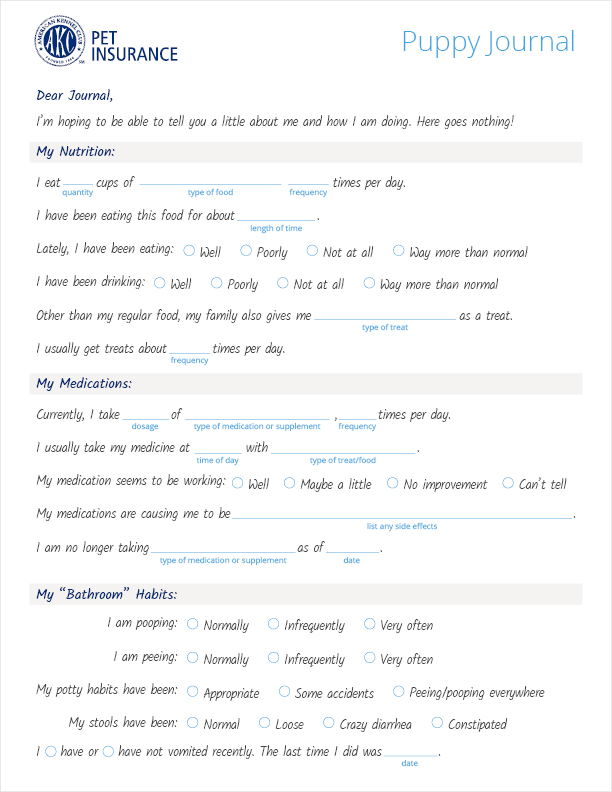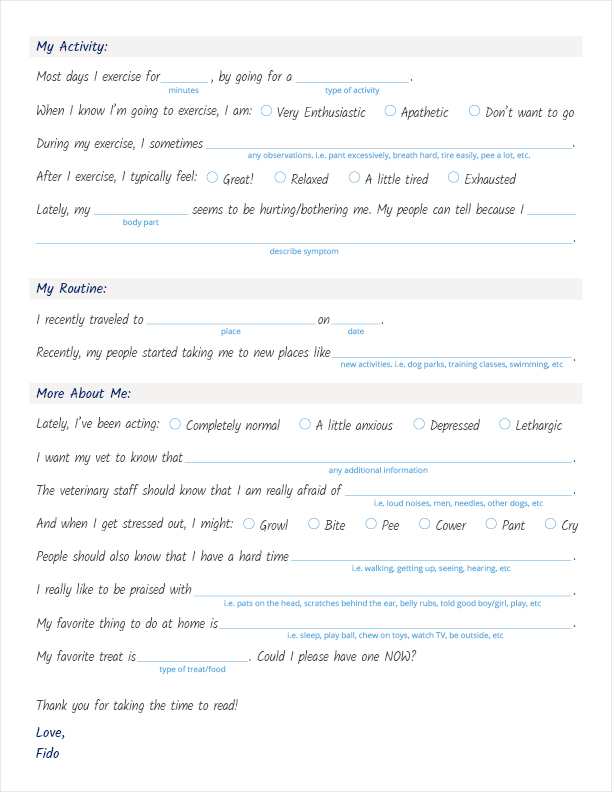 Be Creative!
Creating a Pup Journal is a unique and entertaining way to prepare yourself and your pup for vet appointments. Additionally, you may find that journal writing from your pet's perspective offers a deeper understanding of what your pet needs (and wants) for optimal health. So, give some thought to what your "Fido" might say if you asked him. Write it down, share it with your vet, and have some fun along the way!
Want to start keeping a Pup Journal? Download a printable version and start journaling today!