We all know that exercising our dogs is important. Not only to keep them healthy—but also happy! However, what if you leave for work before the sun comes up? Or you get home after the sun goes down? Or you're trying to avoid the summer heat? Well, walking your dog after dark is unavoidable, so here are some tips to keep you and your walking buddy safe during those twilight hours.
Know Your Route
Choosing the right route is crucial. Try choosing a route that you're familiar with and comfortable with the surroundings.
Identify the houses where other dogs or cats live to avoid any surprises.
Know the terrain, possible hazards and location of common potty areas.
Use sidewalks when possible. Walking in the street in the day can be dangerous. Walking in the street at night is definitely not recommended.
Find a lighted route. Street lights are highly desired!
Stay off the trails. Trails are fun during the day, but can be treacherous in the dark. Avoiding holes, sticks, nighttime critters and other hazards can prove to be challenging and potentially dangerous.
Wear the Right Clothes
Choosing the right clothing for walking at night is vital
Wear light-colored or reflective clothing—white or very bright colored shirt is preferred. Black or dark colored clothing makes it difficult for cars, joggers and other dog walkers to see you.
Invest in products that are specifically designed for walking your dog at night. IllumaCollar makes rechargeable, LED collars and leashes to ensure you and your dog will be seen on your nighttime walks. IllumaCollar products are safe and reliable and come in a variety of sizes and colors. They are also beneficial if you have a large yard or farm where you want to be able to locate your dog from afar.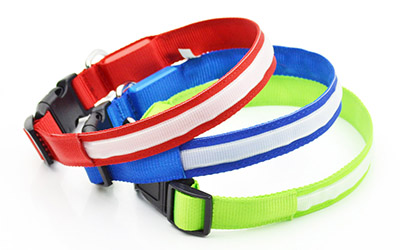 Be alert!
Keep your eyes and ears open! There are many more distractions at night compared to during the day. It's important to stay alert and be aware of your surroundings.
Bikes, joggers, other dog walkers, loose dogs or nighttime critters can quickly creep up on you and be cause for distraction.
Avoid talking on the phone, surfing the web or using headphones while walking at night so you can focus on your dog and your surroundings.
What Else
There are a few staples that we recommend having with you on your walks after dark.
Always have your cell phone with you in case of an emergency.
Some people also choose to carry a flashlight which can be helpful if you are on an unfamiliar trail or an area with no streetlights.
As a reminder, for daytime and nighttime walks—be a courteous dog walker and always bring your poopy bags! Don't use the fact that you "can't find it" or "nobody will see me" be an excuse to not clean up after your dog!
I hope you feel a little safer and more knowledgeable about how to keep you and your dog safe at night. I know that your walking buddy will greatly appreciate the extra exercise and attention!
IllumaCollar products offer LED illuminating dog collars and leashes that come in a variety of sizes and colors. These USB rechargeable collars and leashes require no batteries. They are weather resistant, durable and safe and offer a 1 year "No Questions Asked" replacement warranty. Visit them online at www.IllumaCollar.com or Facebook.