Frozen treats for dogs are the perfect summertime snack! They're healthy, easy to make, and can include most of your pup's favorite ingredients. Trust us—your dog will thank you for it on a hot day.
What You'll Need for Homemade Dog Popsicles
You'll only need a couple of items to make your pupsicles and you probably already have most of them on hand. The most important thing you'll need is a freezer! With that, you can freeze your pupsicles in whatever container you've got and any shape you want. Some containers that work best are popsicle molds, ice cube trays, muffin tins, and Dixie cups.
How to Make Frozen Dog Treats for Summer
First of all, let's make sure your treats are safe and healthy for your favorite furry friend. A common ingredient in many foods that is safe for humans but toxic to dogs is xylitol. Xylitol is an artificial sweetener that can be found in many peanut butters, as well as chewing gums. Double check your labels before making your treats! For the rest of your ingredients, all-natural, sugar-free, and salt-free are always best.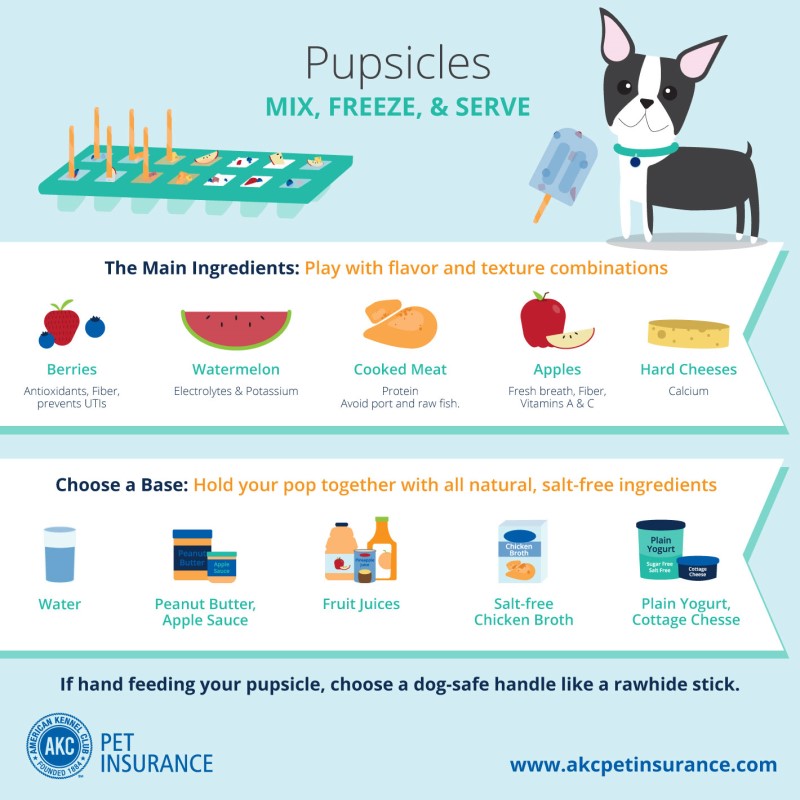 Decide If You Need a Pupsicle Stick
If you'd like to hand feed your pup, you can place a popsicle stick or rawhide stick in the liquid before it solidifies. You can also freeze some healthy veggies to use as a handle.
Have fun concocting and finding out what combination of foods is your dog's favorite! Share your favorite homemade dog treat recipes with us and your friends. By the way, pupsicles can also be a great treat for teething puppies—no matter the season. Happy freezing!
---
Take some of the stress out of pet ownership with Accident & Illness Coverage through AKC Pet Insurance (underwritten by Independence American Insurance Company). Our pet insurance plans are designed to be there when you need them, allowing you to focus more on the health of your pet and less on costly veterinary bills. Click here for a quote today!